The Society XI is open to all members and plays around 30 fixtures a season in the South East, mainly on Sundays on attractive village grounds. Our aim is to play good, traditional cricket in a convivial manner.
Cricket Society XI Results 2018
The Society XI are enjoying an excellent start to the season with 5 wins in the first 6 games.
29th April v Old Wimbledonians. Match cancelled after excessive bad weather.
6th May v Burley Won by 57 runs.
Society 176 for 5 (Jason Fenn 113*)
Burley 119 all out (Andy Sheldon 3 for 14)
The Bank Holiday traffic to the New Forest proved a challenge for many of our team. However it proved to be a very worthwhile journey as we enjoyed a great day in beautiful surroundings. Jason Fenn's innings was little short of magnificent on a difficult pitch and he received able suoport from Sandeep Sunder on debut. Daniel Humphreys (aged 11 ) subbed throughout the Burley innings.
13th May v Old Leightonians Draw
Old Leightonians 167 all out (Paul Fielding 5 for 47
 Society 149-6 (Peter Hardy 41, Harry Fenn 36, Rob Humphreys 36)
We bowled well to restrict our opponents to 167 with Paul Fielding taking 5 wickets. After a slow start, Peter Hardy and Harry Fenn gave us a chance but it was just too much.
20th May v Tilford Won by 66 runs.
Society 191 for 6 dec (Jason Fenn 52, Harry Fenn 37*)
Tilford 125 all out (Paul Fielding 5 for 37)
Tilford are amongst our stronger opponents , so victory on an incident-packed day at sunny Tilford Green was most satisfying. The Fenns dominated our innings with Andrew Moss rolling back the years with a late cameo. Surprisingly the Tilford innings never really got going and Paul Fielding bowled us to victory.
27th May v Salfords Won by 51 runs
Society 196 for 4 (Jason Fenn 88, Peter Hardy 54)
Salfords 145 all out (Harry Fenn 4 for 26)
In a new fixture at the surprisingly rural Salfords ground, we enjoyed another fine day and victory. Jason Fenn continued his fine form with excellent support from Peter Hardy. After an athletic catch by Jason Fenn dismissed the dangerous number 3, Harry Fenn returned to clean up the Salfords innings.
3rd June v Coldharbour Won by 157 runs
Society 252 for 3 (Paul Spencer 118, Peter Hardy 75, Angus Graham 35*)
Coldharbour 96 all out (Andy Sheldon 7 for 26)
Coldharbour is a ground like no other, a postage stamp set atop Leith Hill with an exciting drive uo an unmade track and wonderful views over South East England.
Paul Spencer and Peter Hardy added 167 for first wicket, Angus Graham hit 4 huge huge sixes that would have been maximums on most grounds and  Daniel Humphreys enjoyed a successful  full debut. Andy Sheldon's bowling was too much for Coldharbour aided by some good catching.
10th June v Wood Street Village  Won by 6 wickets
Wood Street Village 130 for 8 dec (John Symons 3 for 34)
Society 133 for 4
Run scoring was not easy for either side at the lovely Wood Street Village ground. The home team's late order youngsters gave their side some momentum to set up the declaration. Paul Spencer and Harry Fenn saw us home , but the best contribution came from 38 extras.
17th June v Kew Won by 14 runs
Cricket Society 218 for 1 (Jason Fenn 123*, Paul Spencer 32) Kew 204 all out (John Symons 4 for 40)
Jason Fenn was in top form as we totalled 218 in a 40 overs game. He was well supported by Paul Spencer and Rob Humphreys. Kew started well and later the hard hitting Kidron Thomas threatened to win the game on his own. John Symons took 4 for 40.
24th June v Crawley Down Lost by 3 wickets.
Cricket Society 178 for 7 dec (Jason Fenn 85, Peter Hardy 35) Crawley Down 181 for 7
Our total on a difficult pitch looked good enough with Jason Fenn again dominating the attack. However, we were beaten by an outstanding innings by our old friend from Newdigate Ruky Wickremasinghe who hit 118*. At the time of writing, this has been our only defeat this season.
1st July v West Meon and Warnford Won by 6 wickets
West Meon 184 for 3. Cricket Society 185 for 4 (Angus Graham 51, Jason Fenn 45*)
With the heat really setting in, fielding first has been something to be avoided. With skipper Tom Carmichael briefly off the field injured, Jason Fenn took over the captaincy and the wicket keeping with equal facility. We stuck at it as Stuart Smith (73*) showed his usual liking for our bowling. We'll welcome him back into our ranks later in the season.
After the loss of two early wickets, an onslaught of mighty hitting by Angus Graham put us on top whilst Joe and Jason Fenn completed an impressive run chase.
8th July v Englefield Green won by 7 wickets
Englefield Green 174 all out (Joe Fenn 4 for 46) Cricket Society 175 for 3 (Jason Fenn 67, Angus Graham 38*)
In another attractive new fixture, our bowlers contained well with Joe Fenn leading the way. With his opening partner becalmed, Jason Fenn dominated the early stages of our reply. Angus Graham was slightly more restrained than in the previous week but still dominated the bowling with help from Peter Hardy.
15th July v Ipsden Won by 89 runs
Cricket Society 278 for 2 (Rob Humphreys 102*, Peter Hardy 78, Jason Fenn 44) Ipsden 189 for 7 (John Symons 4 for 25)
On World Cup Final Day, Britwell Salome were unable to raise a side. We travelled instead to the beautiful Oxfordshire setting of Ipsden. 35 overs a side in excessive heat seemed enough. It was appropriate that our batsmen made hay and Rob Humphreys made a welcome return to form with an outstanding century after dominant innings by Peter Hardy and Jason Fenn. Ipsden made a brave attempt but John Symons was too much for them.
22nd July v Middleton Stoney. Draw
Middleton Stoney 233 for 2 dec Cricket Society 194 for 5 (Tom Fenn 51, Jason Fenn 48*)
In oppressive heat the bat was always likely to dominate the ball and so it proved. For a long time, it looked like we might contain our hosts to little more than 200 but they just got away at the end. With large cracks developing on the pitch and a very good spinner getting excessive turn, the chase proved beyond us despite very good batting by Tom and Jason Fenn.
29th July v Sparsholt. Cancelled . Heavy rain
5th August v Old Wimbledonians Won by 8 wickets
Old Wimbledonians 223 for 4 Cricket Society 227 for 2 (Rob Humphreys 121*, Jason Fenn 76)
Our original opponents cried off and we travelled to Raynes Park to play Old Wimbledonians. We were rewarded with an excellent day in the scorching heat. Playing a 35 overs game , we did well to restrict our much younger opponents and then a brilliant partnership between Rob Humphreys and Jason Fenn put us in touch with Rob and Angus Graham  running our hosts ragged to seal the win.
6th August v Blackheath Lost by 8 wickets
Cricket Society 243 for 4 dec (Jon Thornton 71), Blackheath 245 for 2
All our batsmen played freely to set up the declaration. Unfortunately we found ourselves up against Blackheath's young Australian who hit 169*.
12th August v Odiham and Greywell Draw
Odiham 233 for 5 Cricket Society 174 for 3 (Jason Fenn 85*, Rob Humphreys 42))
John Symons took 3 wickets but we struggled in the field . Although we batted well , the target was too steep against good bowling. As ever, we were well entertained by Odiham President Alan Laycock.
15th August v Lingfield Won by 77 runs
Cricket Society 203 for 5 dec (Peter Hardy 73, Ilija Krunic 53*) Lingfield 126 all out (Mark Wheeler 7 for 28)
The change in the weather led to a slow pitch and outfield at Lingfield's main ground . However Peter Hardy and Illy Krunic adjusted well as both hit half centuries. Lingfield had little answer to Mark Wheeler's off spin.
19th August v Newdigate. Lost by 7 wickets
Cricket Society 138 for 8 dec (Paul Spencer 31), Newdigate 139 for 3.
This was a  disappointing performance in a season that has gone so well. Extras top scored for us with 34 and only three players made double figures. Newdigate knocked off the runs for the loss of only 3 wickets.
26th August v Broadhalfpenny Brigands. Cancelled Heavy rain
27th August  v Petersfield Draw
Petersfield 228 for 8 dec (Paul Fielding 4 for 59), Cricket Society 186 for 4 (Jason Fenn 71, Tom Fenn 36)
Very heavy rain on the previous day had threatened to completely ruin the Hampshire tour, but Petersfield's ground had absorbed the water and , although some moisture had got through the covers, the pitch was fit. Petersfield had a stronger side than in previous years and batted a long way down. During their innings Tom Carmichael broke John Douglas's long standing record for wicketkeeping victims. Jason and Tom Fenn put on a century opening partnership but accurate spin bowling pegged us back and we had to settle for a draw.
29th August v Warlingham Draw
Cricket Society 189 for 3 dec (Jason Fenn 111*, Adrian Berendt 49), Warlingham 144 for 7 (John Symons 3 for 32)
Warlingham proved to be a pleasant new fixture against sporting opponents. Jason Fenn became only the second Society batsman to pass 1000 runs in a season and was well supported by Adrian Berendt playing on the ground where family members put in years of devoted service. Warlingham started well but lost wickets and were happy to play out for a draw.
2nd September v Crown Taverners Lost by 4 wickets
Cricket Society 283 for 1 dec,(Rob Humphreys 152*, Paul Spencer 64, Jason Fenn 35*) Crown Taverners 284 for 6 (Joe Fenn 4 for 69)
Rob Humphreys raced to the fifth highest Society score of all time as we plundered 283 off 37 overs. He put on 184 for the first wicket with Paul Spencer. Crown Taverners chased all the way and ,although defeat was a disappointment to us , it was a super game of cricket.
9th September v Sanderstead Lost by 5 wickets
Cricket Society 188 for 8 dec (Jason Fenn 45, Alan Newman 43) Sanderstead 189 for 5
Jason Fenn hit 45 but wickets tumbled before Alan Newman gave us some respectability.Sanderstead's first teamers put them in a strong position before we took 4 quick wickets. However a fine century from Tyler Ward saw our hosts home.
 16th September v Rudgwick Lost by 19 runs
Rudgwick 159 for 8 (Paul Fielding 5 for 48) Cricket Society 140 for 5 (Angus Graham 72*)
Rudgwick's innings was a two-man effort before Paul Fielding stuck with 5 wickets , 3 of them stumped by Tom Carmichael. Batting was never easy on an end-of-season track and we fell short in this 35 overs game despite a mighty innings from Angus Graham. Andrew Moss played this last game for us . Read more about Andrew in the Captain's Report.
23Rd September v Reigate Pilgrims Cancelled. Heavy rain.
If you are interested in playing, please contact Peter Hardy or Tom Carmichael
You can also send your availability for any of the 2018 Fixtures by downloading and completing this form.


 

 

Cricket Society XI Fixtures 2018

 

Sun

29 April

Old Wimbledonians

1.30

Sun

06 May

Burley, Hampshire

2:00

Sun

13 May

Old Leightonians . Berks

2.00

Sun

Sun

                     

20 May

27 May

Tilford . Surrey

Salfords, Surrey

 

2:00

2.00

 

 

 

 

Sun

03 June

Coldharbour, Surrey

2.00

Sun

10 June

Wood Street Village, Surrey

2.00

Sun

17 June

Kew, Middlesex

1.30

Sun

24June

Crawley Down, Sussex

2.00

Sun

01 July

West Meon and Warnford, Hampshire

2.00

Sun

08 July

Englefield Green, Surrey

2.00

Sun

15 July

Britwell Salome, Oxon

2.00

Sun

22July

Middleton Stoney, Oxon

2:00

Sun

29 July

Sparsholt, Hampshire

2.00

Sun

05 Aug

St James's   Montefiore, Sussex

2:00

Mon

       

06 Aug      

Blackheath , Surrey

2.00

 

Sun

Wed

12 Aug

15 Aug

Odiham & Greywell , Hants

Lingfield at Newchapel, Surrey

1.00

2.00

Sun

19 Aug

Newdigate, Surrey

1.30

 

Sun

Mon

 

Wed

Sun

 

 

26 Aug

27 Aug

 

29 Aug

02 Sept

Hampshire Tour

Broadhalfpenny Brigands , Hants

Petersfield, Hants

 

Warlingham, Surrey

Crown Taverners, Hampshire

 

1:30

1.00

 

1.00

1.00

Sun

09 Sept

Sanderstead , Surrey

1:00

Sun

16 Sept

Rudgwick , West Sussex

1.00

Sun

23 Sept

Reigate Pilgrims , Surrey

1:00
Captain's Report 2017
I often bump into old cricketers who ask how the Society XI is doing and expect to hear the familiar concerns amongst wandering sides of lack of players, frequent drop outs, lack of commitment and declining fixture lists. Whilst we're not completely immune from these problems, the Society XI continues to enjoy rude health as do most of its players.
Only once in the last 11 years have defeats outnumbered victories and 2017 continued the successful trend. 9 wins were achieved, several of them by considerable margins. Of our 6 defeats, 4 were largely as the result of devastating innings by talented young batsmen after we had held the whip hand. When an overseas player or a current county seconds player is in full flow there is little that can we done. Of course, we all learned many years ago to take the rough with the smooth.
By and large the weather stayed fine on our match days with only two games completely lost to rain. Weather forecasting is not yet a perfect science, but days are less likely to be wasted nowadays with a fruitless journey to a distant ground. We feared that rain might claim the much-anticipated Bryan Fenn Memorial match, but Jason arranged everything including the weather. A great day with the entire Fenn clan in attendance was highlighted by Harry Fenn's wonderful innings. Later in the season on two occasions we took the field with four Fenns in the side.
Jason Fenn's batting over the season was extraordinary. His 835 runs in a season has only been bettered by the legendary Aussie Kevan Carroll. Twice his natural sense of fair play led to a retirement with the bowlers on their knees. 6 times in the season the openers put on century plus stands. Paul Spencer played a significant role in this. Rob Humphreys , whilst less prolific than in some years, scored classy runs and Stuart Smith and Peter Hardy contributed effectively. Andy Graham was almost back to his best form before he was forced to submit to several on-going injuries. Son Angus, whilst starting the season late after his marriage to Heather, frequently threatened to take attacks apart and enjoyed a Society first; a batting partnership with his sister, Rosy.
On the bowling front, Harry Fenn again bowled with great pace and little luck. No opposing opener played him with any conviction. Andy Sheldon had several successful days before injury ended his season. John Symons continued to baffle batsmen many years his junior and Paul Fielding reeled in 41 batsmen, creating a new Society bowling tally in the process. Joe Fenn showed an ability to hold an end when sides could otherwise get away. With some hard-hitting batting and athletic fielding, he was a most welcome addition.
Although we had a couple of bad days, the fielding generally held its own with Harry Fenn outstanding. Tom Carmichael snared 35 victims behind the sticks.
As ever we were very well served by our umpires and by scorers Brenda Symons, Robbie Burns and Denise Fielding. Rob Humphreys was a knowledgeable and supportive vice-captain and it won't be long before we see his son, Daniel, on the field. Our team of loyal supporters grows and grows with family involvement bucking the national trend and helping to make our cricketing days special.
Cricket Society Averages 2017
                                           Played 24, Won 9, Lost 6, Drawn 9, Cancelled 2.
Batting
| | | | | | | |
| --- | --- | --- | --- | --- | --- | --- |
|   | Matches | Innings | NO | Runs | HS | Average |
| Jason Fenn | 18 | 16 | 1 | 835 | 122 | 55.66 |
| Stuart Smith | 4 | 4 | 0 | 192 | 65 | 48.00 |
| Andy Graham | 8 | 7 | 3 | 150 | 43* | 37.50 |
| Paul Spencer | 15 | 14 | 3 | 344 | 90* | 31.27 |
| Ronald Paterson | 7 | 6 | 3 | 92 | 37* | 30.66 |
| Rob Humphreys | 15 | 15 | 4 | 317 | 57* | 28.81 |
| Angus Graham | 9 | 9 | 2 | 161 | 42* | 23.00 |
| Peter Hardy | 22 | 18 | 2 | 336 | 58 | 21.00 |
| Stuart Cosstick | 11 | 8 | 0 | 148 | 81 | 18.50 |
| Joe Fenn | 15 | 12 | 5 | 120 | 23 | 17.14 |
| Harry Fenn | 19 | 12 | 4 | 110 | 34 | 13.75 |
| Tom Carmichael | 24 | 7 | 4 | 20 | 10* | 6.66 |
| Andy Sheldon | 14 | 7 | 2 | 6 | 5 | 1.20 |
Also batted;
22 Games: John Symons 3-2-2-1*
19 games: Paul Fielding 3-2-10-9*
7 games: Mark Wheeler DNB
4 games: Andrew Moss 2-1-5-5*
3 games: David Chapman 3-1-15-11, Ash Saleem 2-0-11-7, Pratik Bhattacharya 2-0-48-48
2 games: Ilija Krunic2-1-100-100*, Jamie Hall 2-0-92-89, Graeme Overy2-0-59-46, Tom Fenn 2-1-22-17, Alan Newman 2-1-15-13.
I game: Jon Thornton 64, Will Wyatt, 59, Matt Stevens 8, Sam Morris 6, Rob Berendt 1, Stephen Fallowell 1*, James Burry 0, Rosy Graham 0*, Graeme Moir DNB
Bowling
| | | | | | | |
| --- | --- | --- | --- | --- | --- | --- |
|   | Overs | Maidens | Runs | Wickets | Average | 5 wkts |
| Andy Sheldon | 103 | 16 | 424 | 28 | 15.14 | 1 |
| Joe Fenn | 65.9 | 6 | 280 | 16 | 17.50 | 1 |
| Jason Fenn | 14.4 | 0 | 91 | 5 | 18.20 | 0 |
| Paul Fielding | 161.3 | 14 | 855 | 43 | 19.89 | 3 |
| Mark Wheeler | 45.4 | 4 | 207 | 9 | 23.00 | 0 |
| Harry Fenn | 129.5 | 26 | 420 | 18 | 23.33 | 0 |
| John Symons | 144.3 | 22 | 623 | 25 | 24.92 | 0 |
Also bowled: Stephen Fallowell 5-1-20-4; Matt Stevens 9-3-24-4; Ash Saleem 24-4-89-4; Angus Graham 22.3-1-99-4; David Chapman 11-2-45-4; Stuart Smith 11.2-5-54-3; Graeme Overy 4-0-23-2; Will Wyatt 6-2-13-1; Ilija Krunic 8-2-22-1; Peter Hardy 6-0-22-1; James Burry 5-0-33-1; Tom Fenn 15-4-51-0; Rob Berendt 6-1-37-0
Fielding
35 Carmichael (15 ct, 20 st)
8 Harry Fenn
6 Jason Fenn
5 Humphreys
4 Andy Graham, Spencer
3 Hardy, Saleem, Cosstick
2 Fielding, Bhattacharya,Sheldon
1 Tom Fenn, Joe Fenn, Overy, Smith, Moss, Paterson, Wheeler, Krunic, Angus Graham, Wyatt
Batting partnerships
1st wkt
185 Jason Fenn and Krunic v Britwell Salome
157 Jason Fenn and Smith v Petersfield
144 Smith and Thornton v Blackheath
110* Jason Fenn and Spencer v Ockley
107 Jason Fenn and Spencer v Odiham
104 Jason Fenn and Spencer v West Meon
2nd wkt
188 Spencer, Andy Graham (retired *) and Hardy v Southwater
3rd wkt
82 Jason Fenn and Angus Graham v Rudgwick
4th wkt
86 Cosstick and Wyatt v Lingfield
5th wkt
58 Cosstick and Harry Fenn v Wood Street Village
6th wkt
37* Paterson, Moss (retired *) and Carmichael v Reigate Pilgrims
7th wkt
18 Newman and Carmichael v Fleet Street Strollers
18 Joe Fenn and Carmichael v IBM South Hants
8th wkt
12 Carmichael and Sheldon v Fleet Street Strollers
9th wkt
25 Humphreys and Fielding v Tilford
10th wkt
15 Fielding and Symons v Fleet Street Strollers
 Results 2017
30th April v Ockley Society Won by 10 wickets
Ockley 109 all out (Andy Sheldon 4 for 15), Society 110 for 0 (Jason Fenn 85*)
The XI started the season with a resounding win at Ockley. With rain forecast, Ockley chose to bat and were soon in trouble against Andy Sheldon. Young Tyrone Shaw offered the only real opposition with a fighting 46. Jason Fenn was in superb form as he raced to 85* in 52 balls well assisted by Paul Spencer, making sure that the rain was not a factor. 
7th May v Darji at Princes Risborough Won by 37 runs
Society 220 for 6 (40 overs) (Jamie Hall 89, Jason Fenn 32) Darji 183 for9 (40 overs) (Andy Sheldon 3 for 36, Jason Fenn 3 for 36)
Original opponents, Princes Risborough, could not raise a team and we entertained Darji at Risborough's ground. Batting first in a 40 over game, our total was built around a fine 89 by Jamie Hall. Our key bowlers were Andy Sheldon who removed the top 3 , Jason Fenn also with 3 and 2 important strikes by Harry Fenn.
14th May v Old Leightonians Lost by 6 wickets
Society 138 for 7 dec (Pratik Bhattacharya 48), Old Leightonians 142 for 4
Batting first on a difficult pitch, our innings lacked momentum despite good innings by Andy Graham and Pratik Bhattacharya. We had our opponents in trouble at 22 for 3 but two experienced batsmen saw them home
21st May v Tilford Lost by 25 runs
Tilford 161 for 6 dec (John Symons 4 for 47), Society 136 all out (Rob Humphreys 42)
Miserly bowling by John Symons and Andy Sheldon pegged Tilford down until two first team batsmen finished the innings in some style with a car rear windscreen being amongst their victims. For a while our batting threatened to take us close but a late order collapse sealed our fate.
28th May v Godalming Match abandoned as a draw
Society 58 for 2.
Our original opponents cried off but Godalming were excellent hosts at short notice. Unfortunately the weather got the better of us.
29th May v Bryan Fenn Select XI at Hayes. Draw
Fenn XI 228 for 9 dec ( Harry Fenn 99, David Chapman 34) Society 187 for 5 (Stuart Smith 56, Peter Hardy 53*)
Jason Fenn raised an eleven, almost all from his family, to play this special game in memory of his late father. It was a sizeable family outing at Bryan's club, Hayes in Middlesex. Harry Fenn would have delighted his grandfather with a fine innings, before falling one short of a maiden century against his regular teammates. Stuart Smith and Peter Hardy batted well in our reply. Honours ended appropriately even.
4th June v Coldharbour. Won by 9 wickets.
Coldharbour 106 for 9 dec (Andy Sheldon 4 for 30 , Paul Fielding 4 for 35) Society 109 for 1 (Andy Graham 43*, Rob Humphreys 42*)
On the picture postcard Coldharbour ground, pitched rather inaccessibly on Leith Hill, we skittled the home team until the skipper's very young son offered some late resistance. Andy Sheldon and Paul Fielding refect on their bowling beneath. Andy Graham and Rob Humphreys plundered the short boundaries to see us home.
 Paul Fielding and Andy Sheldon reflect on their four wicket hauls at Coldharbour , the highest ground in the South East. Gatwick Airport is in the background.
11th June v Wood Street Village won by 95 runs
Society 186 for 7 dec (Jason Fenn 62, Harry Fenn 34) Wood Street Village 91 (Paul Fielding 6 for 10)
We played at the attractive Wood Street Village ground after our original opponents cried off. Jason Fenn was in good form and son Harry weighed in with a quick fire 34. After Harry Fenn and Andy Sheldon removed the top 4, Paul Fielding took 6 for 10, which would have been better still but for some overhanging telephone wires intercepting a probable boundary catch.
18th June v Kew Won by 8 wickets
Kew 127 all out (Joe Fenn 3 for 46), Society 131 for 2 (Rob Humphreys 57*)
We returned after several years to the lovely Kew Green on a blistering hot day. After a moving tribute to by Stuart Cosstick to the victims of the recent and nearby Grenville Tower tragedy, Kew batted first in ideal batting conditions. A hard-hitting first team regular threatened a significant innings before being dismissed by Joe Fenn in an impressive display of slow bowling. Paul Fielding took his wicket tally to 421 , equalling the record of John Kershaw.Rob Humphreys was in commanding form with the bat was well supported by Jason Fenn and Angus Graham who was playing his first game as a married man.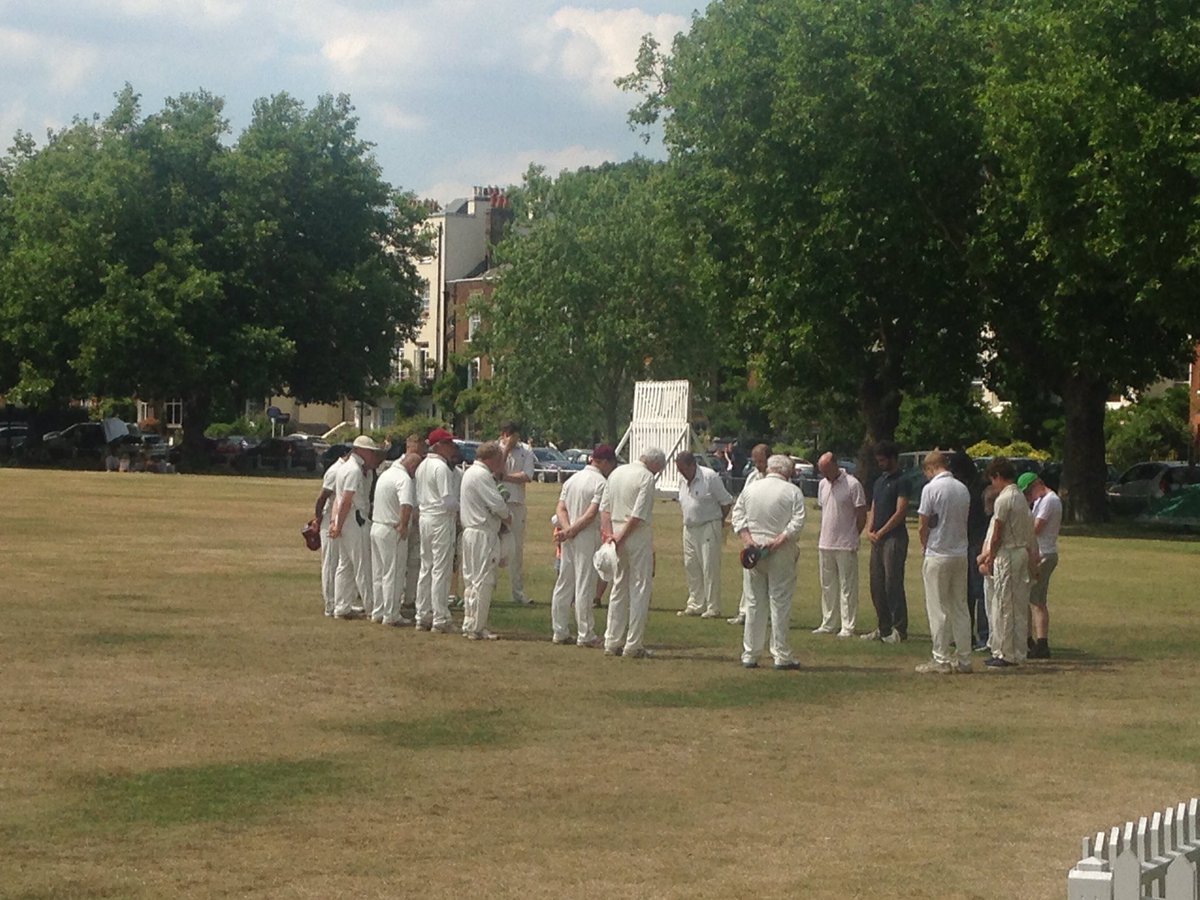 25th June v Southwater Lost by 5 wickets
Society 213 for 3 40 overs (Paul Spencer 90*, Peter Hardy 58), Southwater 216 for 5 (Andy Sheldon 5 for 50)
Although the scores do not suggest it, the Southwater pitch was very tricky and batting was at times a lottery. Paul Spencer and Peter Hardy batted with great good sense to give us what looked a defendable total. However , with only 10 men, we were left exposed in the field as the Southwater skipper smashed the ball to all parts. Andy Sheldon bowled well for his 5 wickets.
2nd July v West Meon and Warnford Draw
Society 163 for 6 dec (Jason Fenn 75) West Meon 160 for 4
Jason Fenn dominated our innings although a late flurry of wickets set us back a little. West Meon were behind the rate for most of their innings but Stuart Smith and the skipper gave them a realistic chance. Good death bowling by Harry Fenn and Angus Graham ensured that we got a draw.
9th July v Fleet Street Strollers Lost by 53 runs
Fleet Street Strollers 191 (Andy Sheldon 3 for 30, Paul Fielding 3 for 54) Society 138 (Peter Hardy 34)
This was a new fixture played at Pinkney's Green. Our opponents were a youngish side of decent cricketers but their batting was soon in trouble. At 123 for 9 we thought we had things in the bag but were thwarted by some extraordinary hitting from a man meeting his team mates for the first time. Our strong top order batting crumbled to 22 for 4 and, although Peter Hardy and Harry Fenn batted well, we were well beaten.
16th July v Britwell Salome Draw
Society 276 for 2 dec (Jason Fenn 122, Ilija Krunic 100*), Britwell Salome 186 for 5 (Paul Fielding 3 for 59)
Jason Fenn was in outstanding form and was well supported by Ilija Krunic's maiden Society ton as we declared after just 40 overs. Britwell were in the hunt for a while , although they settled for a draw after Paul Fielding took key wickets.
23rd July v Middleton Stoney Draw
Miiddleton Stoney 196 for 6 dec (John Symons 4 for 48), Society 86 for 9
Fielding a strong side, we had hoped for much more from this game. Harry and Tom Fenn caused early problems and John Symons bowled well but the Middleton score was always going to be hard to chase. Early and late collapses left us grateful the last pair for our draw.
30th July v Sparsholt. No play . Waterlogged square. 
6th Aug v IBM (South Hants) Draw
IBM 222 all out (Joe Fenn 6 for 29), Society 132 for 8
Our opponents cried off and we travelled to the picturesque IBM ground. We leaked runs for much of the innings but Joe Fenn bowled a superb spell to keep us in the game. Wickets were lost at regular intervals but Tom Carmichael batted through to secure a draw.
7th Aug v Blackheath Won by 112 runs
Society 226 for 6 dec (Stuart Smith 65, Jon Thornton 64), Blackheath 114 all out (Matt Stevens 4 for 24)
After surviving a lively opening spell, Stuart Smith and Jon Thornton put on 144 for the first wicket. Rob Humphreys added 33* to set up the declaration. The young Blackheath batsmen fell to a combination of Andy Sheldon and Matt Stevens.
14th Aug v Odiham and Greywell. Draw
Odiham 182 all out (John Symons 4 for 45), Society 181 for 5 (Jason Fenn 107)
Good bowling by John Symons and Joe Fenn tied Odiham down on a good batting track. Jason Fenn batted brilliantly to put us in with a real chance of a rare win at Odiham but we fell just short. we were royally entertained , as ever, on the Odiham President's Day.
16th Aug v Lingfield Won by 96 runs
Society 200 for 6 (Stuart Cosstick 81, Will Wyatt 59*), Lingfield 104 all out (Stephen Fallowell 4 for 20)
In a new fixture at the attractive Newchapel ground, Stuart Cosstick hit a classy 81, whilst Will Wyatt blitzed sixes at the other end. After a good start, Lingfield succumbed rapidly to the spin of Stephen Fallowell and Stuart Smith.
20th Aug v Newdigate Lost by 5 wickets
Society 181 for 6 dec (Paul Spencer 67, Angus Graham 41), Newdigate 184 for 6
An opposing player had died at Newdigate on the previous day and the mood was understandably sombre. Paul Spencer and Angus Graham put us into what we thought was strong position. Unfortunately Newdigate's  overseas player made light of the run chase .
27th Aug v Broadhalfpenny Brigands Draw
Brigands 168 for 8 dec, Society 139 for 7 (Graeme Overy 46)
The Brigands made slow progress against accurate Society bowling which was well supported by Tom Carmichael's 4 wicket keeping victims. The delayed declaration left us with 13 fewer overs to bat. Graeme Overy and Rob Humphreys put us in a strong postion but we lost wickets at crucial times to two good young bowlers
28th Aug v Petersfield Won by 138 runs
Society 203 for 5 dec (Jason Fenn 91, Stuart Smith 61), Petersfield 65  all out (Paul Fielding 5 for 11, Harry Fenn 3 for 8)
Jason Fenn and Stuart Smith put on 157 for the first wicket against steady Petersfield bowling and we declared at 203. Harry Fenn , for once, got reward for a superb spell in dismissing the early batting. Paul Fielding made short work of the tail. Petersfield were fine hosts on a lovely day.
3rd Sept v Crown Taverners Cancelled due to rain.
10th Sept v Sanderstead. Match abandoned as a draw.
Sanderstead 174 for 8 (Paul Fielding 7 for 87), Society 60 for 1(Jason Fenn 34)
Paul Fielding bowled a remarkable 22 overs for his seven wickets aided by some excellent catching. Our rely was looking very good when rain ended the game.
 17th Sept v Rudgwick Lost by 6 wkts
 Society 217 for 5 dec (Jason Fenn 113, Angus Graham 42*), Rudgwick 218 for 4
Jason Fenn was again in prime form and our innings ended with brother and sister Angus and Rosy Graham at the crease. What had looked a good score was overhauled by a remarkable innings by Sussex 2nd XI player Tom Haynes.
24th Sept v Reigate Pilgrims Won by 27 runs
Society 125 for 5 dec (Ronald Paterson 37*), Reigate Pilgrims 97 all out (Mark Wheeler 3 for 28)
Batting conditions were far from easy and we were indebted to  an excellent knock by Ronald Paterson who had missed much of the season through an operation. Mark Wheeler and Paul Fielding proved too experienced for the Pilgrims.
| | | | |
| --- | --- | --- | --- |
| DAY | DATE | OPPONENTS | TIME |
|   |   |   |   |
| Sun | 30-Apr | Ockley. Surrey | 1.30pm |
| Sun | 07-May | Princes Risborough, Bucks | 2.00pm |
| Sun | 14-May | Old Leightonians . Berks | 2.00pm |
| Sun | 21-May | Tilford . Surrey | 2.00pm |
| Sun | 28-May | Forest Green,. Surrey | 2.00pm |
| Mon | 29-May | Bryan Fenn Select XI at Hayes CC , Middlesex | 2.00pm |
| Sun | 04-Jun | Coldharbour, Surrey | 2.00pm |
| Sun | 11-Jun | Oakwood Hill, Surrey | 2.00pm |
| Sun | 18-Jun | Kew, Middlesex | 1.30pm |
| Sun | 25-Jun | Southwater, Sussex | 2.00pm |
| Sun | 02-Jul | West Meon and Warnford, Hampshire | 2.00pm |
| Sun | 09-Jul | Fleet Street Strollers at Pinkney's Green, Berks | 1.00pm |
| Sun | 16-Jul | Britwell Salome, Oxon | 2.00pm |
| Sun | 23-Jul | Middleton Stoney, Oxon | 2.00pm |
| Sun | 30-Jul | Sparsholt, Hampshire | 2.00pm |
| Sun | 06-Aug | St James's Montefiore, Sussex | 2.00pm |
| Mon | 07 Aug     | Blackheath , Surrey | 2.00pm |
| Sun | 13-Aug | Odiham & Greywell , Hants | 1.00pm |
| Wed | 16-Aug | Lingfield at Newchapel, Surrey | 2.00pm |
| Sun | 20-Aug | Newdigate, Surrey | 1.30pm |
|   |   | Hampshire Tour |                |
| Sun | 27-Aug | Broadhalfpenny Brigands , Hants | 1.30pm |
| Mon | 28-Aug | Petersfield, Hants | 1.00pm |
| Sun | 03-Sep | Crown Taverners, Hampshire | 1.00pm |
|   |   |   |   |
| Sun | 10-Sep | Sanderstead , Surrey | 1.00pm |
| Sun | 17-Sep | Rudgwick , West Sussex | 1.00pm |
| Sun | 24-Sep | Reigate Pilgrims , Surrey | 1.00pm |
Captain's Report 2016 by Tom Carmichael
In the days after the last game of the season a series of e-mails flowed between many of our players. These e-mails spoke of the feeling of real satisfaction after an excellent season and the desire to do it all again next year. No doubt a super Angus Graham-inspired win at Reigate Pilgrims helped fuel this feeling but it did reflect another hugely enjoyable year for the Society XI.
7 wins to set against only 2 defeats creates an impressive win/loss ratio. We were victorious at Forest Green, West Meon, Abinger, Newdigate, Broadhalfpenny Brigands, Petersfield and Reigate Pilgrims. We lost in the rain at Sparsholt and in a tight game at the Royal Household. Unfortunately, we couldn't raise a team for Ventor, so our days of touring the Isle of Wight appear over. However, the Hampshire tour was a great success. We're not sure when we last won 2 games on tour.
We were seldom short of runs and runs scored with class and power. Jason Fenn and Rob Humphreys maintained their quality contributions whilst Paul Spencer and Peter Hardy both scored consistently well. Few who witnessed Angus Graham's maiden century at Rudgwick will forget it and he followed it up with a match winning display of batting, bowling and catching the following week. Opportunities were often limited for many of our batsmen, but several others contributed well when called upon.
On the bowling front, Harry Fenn continued to be hugely unlucky, bowling with real pace and venom. The old stagers Andy Sheldon, Paul Fielding and John Symons would readily admit that much of their success was due to Harry's bowling at the other end. However, it would be wrong to take anything away from the remarkable bowling of these three.
The days when the team couldn't catch a cold are in the past. We lost count of the number of outstanding catches over the course of the season. Peter Hardy took 8 catches with Angus Graham and Rob Humphreys 6 each. Tom Carmichael pouched 25 wicket keeping victims.
As ever we were well served by our umpires and Brenda Symons, Robin Burns and Denise Fielding were excellent scorers. Many thanks again from me to Rob Humphreys for his total support as Vice-Captain and to the match managers. We were supported wherever we went by our travelling band of wives, partners, children and others. Many of our opponents regard their game with us as one of the highlights of their season and our supporters are an undoubted factor in this.
Roll on 2017.